Why?
Improve communication within the team.
Improve communication between employees and customers.
Discover your team's strengths and areas for improvement.
Create a customer-oriented culture.
Learn about the organizational culture.
Program
The participants start by completing a short online questionnaire. We use this to draw up a unique and personal profile for each participant that provides insight into people's individual preferences.
A personal profile contains:
Personal style, interaction with others, and decision making
Main strengths and weaknesses
Value for the team
Preferred way of communication
Potential blind spots
Dealing with opposite kind of person
Suggestions for development
Optional: Leadership and management development
Optional: Personal development
Optional: Sales effectiveness in every stage of the sales process
Optional: Relevant questions for recruitment and selection.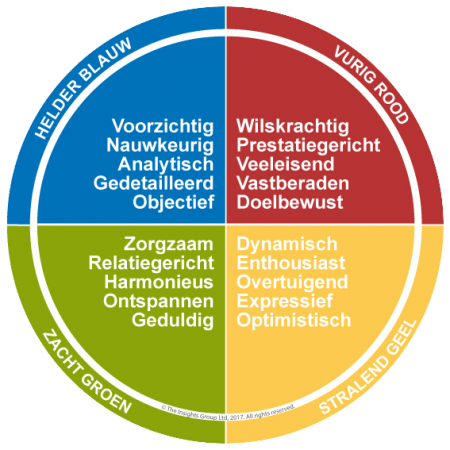 Insights Discovery uses a 'color language'. The four colors represent behavioral characteristics. Every person has all colors, but has a preference for one or two colors. We use this to discover your personal style.
Fiery Red
People who use a lot of red show a strong determination that influences their interactions with others. They are driving and purposeful.
Characteristics:
demanding, strong-willed, determined, purposeful, results-oriented.
Sunshine Yellow
People who use a lot of yellow usually enjoy the company of others and want to be involved in everything. They are enthusiastic and inviting.
Characteristics:
optimistic, dynamic, enthusiastic, persuasive, expressive.
Earth Green
People who use a lot of green weigh everything against their values and the things that matter to them. They look for harmony and meaningful relationships.
Characteristics:
caring, relationship-oriented, harmonious, relaxed, patient.
Cool Blue
People who use a lot of blue like to have all the right information before making a decision. They want to know and understand the world around them.
Characteristics:
objective, cautious, precise, analytical, detailed.
Investment
€ 3300,- per day, per team of max 12 people
incl. preparation and design
€ 750,- House of Brout
incl. coffee/thee/snacks and a delicious lunch

€175,- per individual Insights Discovery Profile