[et_pb_section bb_built="1″ admin_label="section" inner_width="auto" inner_max_width="1080px"][et_pb_row admin_label="row" background_position="top_left" background_repeat="repeat" background_size="initial" width="80%" max_width="1080px" _builder_version="3.26.4″][et_pb_column type="4_4″ custom_padding__hover="
" custom_padding="
"][et_pb_text admin_label="Text" background_position="top_left" background_repeat="repeat" background_size="initial" _builder_version="3.26.4″ text_text_shadow_horizontal_length="text_text_shadow_style,%91object Object%93″ text_text_shadow_horizontal_length_tablet="0px" text_text_shadow_vertical_length="text_text_shadow_style,%91object Object%93″ text_text_shadow_vertical_length_tablet="0px" text_text_shadow_blur_strength="text_text_shadow_style,%91object Object%93″ text_text_shadow_blur_strength_tablet="1px" link_text_shadow_horizontal_length="link_text_shadow_style,%91object Object%93″ link_text_shadow_horizontal_length_tablet="0px" link_text_shadow_vertical_length="link_text_shadow_style,%91object Object%93″ link_text_shadow_vertical_length_tablet="0px" link_text_shadow_blur_strength="link_text_shadow_style,%91object Object%93″ link_text_shadow_blur_strength_tablet="1px" ul_text_shadow_horizontal_length="ul_text_shadow_style,%91object Object%93″ ul_text_shadow_horizontal_length_tablet="0px" ul_text_shadow_vertical_length="ul_text_shadow_style,%91object Object%93″ ul_text_shadow_vertical_length_tablet="0px" ul_text_shadow_blur_strength="ul_text_shadow_style,%91object Object%93″ ul_text_shadow_blur_strength_tablet="1px" ol_text_shadow_horizontal_length="ol_text_shadow_style,%91object Object%93″ ol_text_shadow_horizontal_length_tablet="0px" ol_text_shadow_vertical_length="ol_text_shadow_style,%91object Object%93″ ol_text_shadow_vertical_length_tablet="0px" ol_text_shadow_blur_strength="ol_text_shadow_style,%91object Object%93″ ol_text_shadow_blur_strength_tablet="1px" quote_text_shadow_horizontal_length="quote_text_shadow_style,%91object Object%93″ quote_text_shadow_horizontal_length_tablet="0px" quote_text_shadow_vertical_length="quote_text_shadow_style,%91object Object%93″ quote_text_shadow_vertical_length_tablet="0px" quote_text_shadow_blur_strength="quote_text_shadow_style,%91object Object%93″ quote_text_shadow_blur_strength_tablet="1px" header_text_shadow_horizontal_length="header_text_shadow_style,%91object Object%93″ header_text_shadow_horizontal_length_tablet="0px" header_text_shadow_vertical_length="header_text_shadow_style,%91object Object%93″ header_text_shadow_vertical_length_tablet="0px" header_text_shadow_blur_strength="header_text_shadow_style,%91object Object%93″ header_text_shadow_blur_strength_tablet="1px" header_2_text_shadow_horizontal_length="header_2_text_shadow_style,%91object Object%93″ header_2_text_shadow_horizontal_length_tablet="0px" header_2_text_shadow_vertical_length="header_2_text_shadow_style,%91object Object%93″ header_2_text_shadow_vertical_length_tablet="0px" header_2_text_shadow_blur_strength="header_2_text_shadow_style,%91object Object%93″ header_2_text_shadow_blur_strength_tablet="1px" header_3_text_shadow_horizontal_length="header_3_text_shadow_style,%91object Object%93″ header_3_text_shadow_horizontal_length_tablet="0px" header_3_text_shadow_vertical_length="header_3_text_shadow_style,%91object Object%93″ header_3_text_shadow_vertical_length_tablet="0px" header_3_text_shadow_blur_strength="header_3_text_shadow_style,%91object Object%93″ header_3_text_shadow_blur_strength_tablet="1px" header_4_text_shadow_horizontal_length="header_4_text_shadow_style,%91object Object%93″ header_4_text_shadow_horizontal_length_tablet="0px" header_4_text_shadow_vertical_length="header_4_text_shadow_style,%91object Object%93″ header_4_text_shadow_vertical_length_tablet="0px" header_4_text_shadow_blur_strength="header_4_text_shadow_style,%91object Object%93″ header_4_text_shadow_blur_strength_tablet="1px" header_5_text_shadow_horizontal_length="header_5_text_shadow_style,%91object Object%93″ header_5_text_shadow_horizontal_length_tablet="0px" header_5_text_shadow_vertical_length="header_5_text_shadow_style,%91object Object%93″ header_5_text_shadow_vertical_length_tablet="0px" header_5_text_shadow_blur_strength="header_5_text_shadow_style,%91object Object%93″ header_5_text_shadow_blur_strength_tablet="1px" header_6_text_shadow_horizontal_length="header_6_text_shadow_style,%91object Object%93″ header_6_text_shadow_horizontal_length_tablet="0px" header_6_text_shadow_vertical_length="header_6_text_shadow_style,%91object Object%93″ header_6_text_shadow_vertical_length_tablet="0px" header_6_text_shadow_blur_strength="header_6_text_shadow_style,%91object Object%93″ header_6_text_shadow_blur_strength_tablet="1px" box_shadow_horizontal_tablet="0px" box_shadow_vertical_tablet="0px" box_shadow_blur_tablet="40px" box_shadow_spread_tablet="0px" z_index_tablet="500″]

Je hebt al
tijd drie wegen
naar geluk
En dat maakt het leven heel simpel. Zou je denken tenminste. Toch leert de praktijk dat het kiezen van één van die wegen nog niet zo makkelijk is.  
Het model dat ik hier uitleg werkt het best als je het direct op jezelf toepast. Als je dat doet namelijk, dan ben je er ook meteen mee geholpen! Maar dat vraagt ook iets van je. Dat je nu – as we speak – stilstaat bij iets waar je in je leven last van hebt. Iets waar je mee zit, over piekert, weleens van wakker ligt, vaak over praat (maar niks aan doet) of waarvan je heel graag zou willen dat het anders was.  
Voor de duidelijkheid, ik bedoel dus niet 'oh hè, vervelend, m'n panty zit gedraaid' of 'de eieren zijn op en ik wilde net een taart bakken'. Nee, de last gaat over 'ik ben al jaren ongelukkig in mijn relatie' of 'vanwege Corona weet ik niet zeker of ik straks mijn baan nog heb'. 
Laten we die last 'X' noemen. Een dikke, vette 'X' waar je mee rondloopt. En wees gerust, iedereen op deze aardbol loopt rond met een 'X'. Veel van ons met wel meer dan één.  
 Met je 'X' kun je op het keuzekruispunt gaan staan: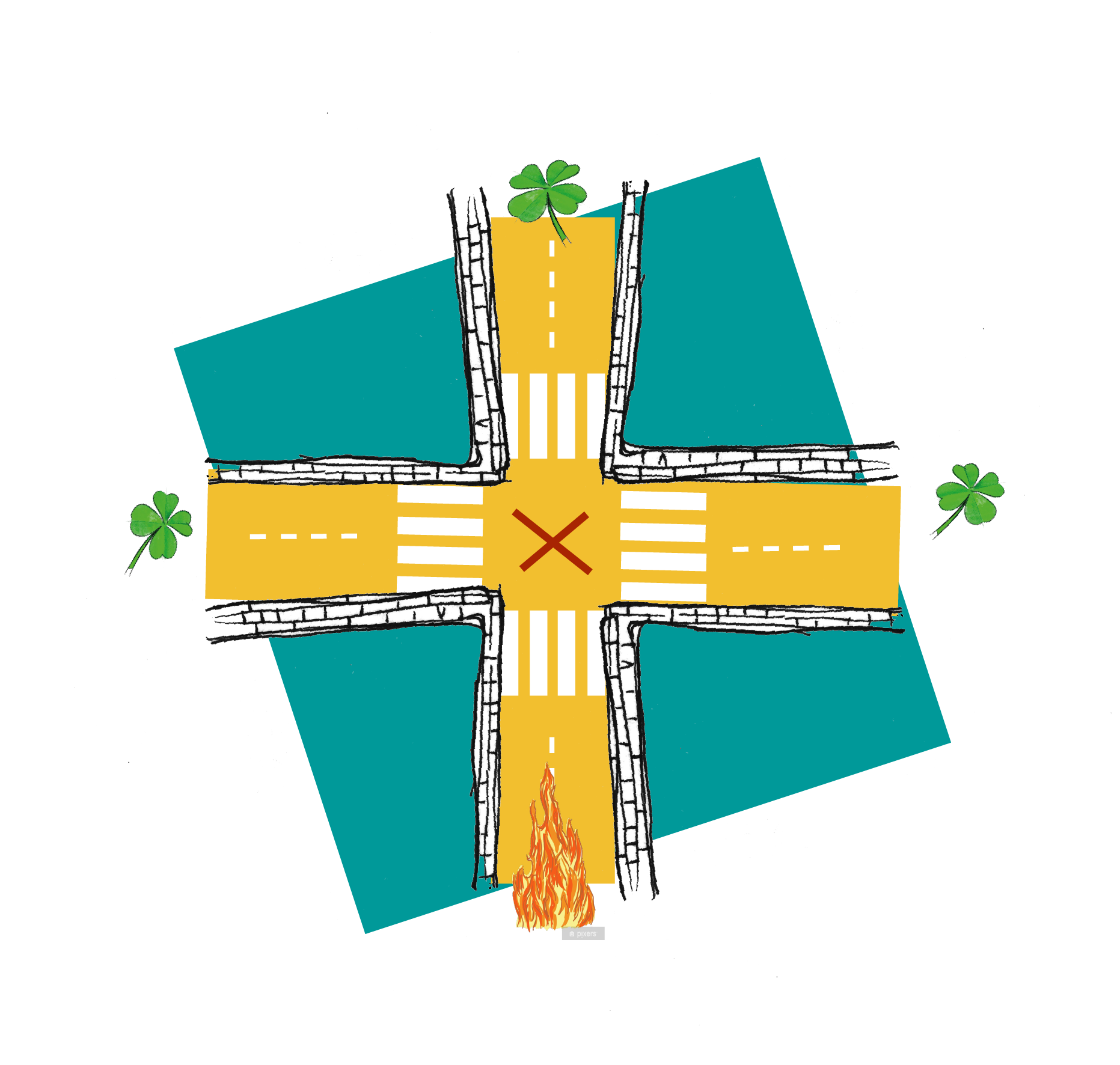 Dan zie je direct dat je keuzes bestaan uit drie A's, lekker makkelijk: 
A

ccepteren

 
A

anpakken

 
A

fscheid nemen

 
 We gaan ze allemaal even langs, en neem bij elke keuze je eigen 'X' in gedachte.  
Accepteren
De eerste optie die je hebt, is jouw 'X' accepteren. Je kunt bijvoorbeeld accepteren dat er weinig uitdaging zit in je werk of dat je partner weinig praat. Er zit wel een kanttekening aan die acceptatie. Dat moet namelijk zonder gelatenheid. Want het gaat er juist om dat je het niet alleen zegt te accepteren, maar dat je het ook echt zo voelt.  
Er zijn situaties waarbij accepteren de enige optie is die je hebt. Bijvoorbeeld accepteren dat je volle haardos nooit meer terug groeit (al zijn ook daar oplossingen voor). Of dat je nooit meer zo goed zal voetballen als vroeger. Je voelt zelf aan of je dat écht accepteert, zonder gelatenheid, of dat je er toch nog mee zit. 
Aanpakken
Maar goed, je hebt net het hele stuk over accepteren gelezen en denkt 'allemaal leuk en aardig, maar met mijn 'X' lukt dat écht niet'. Dan is je volgende keuze om te onderzoeken of er manieren zijn om het aan te pakken. Wat ligt er binnen jouw cirkel van invloed? Kun je in gesprek met de persoon waar je last van hebt? Kun je solliciteren op een nieuwe baan? Kun je een coach inschakelen? Het gaat erom dat je kritisch kijkt naar je eigen handelen en daar iets in verandert.  
Hier is het devies om ook echt binnen je cirkel van invloed te blijven. Ik kan bijvoorbeeld een hekel hebben aan Trump, dan nog is het overdreven om mijn hele leven in werking te stellen om een (weer) impeachment proces tegen de beste man te starten. 
Afscheid nemen
En als je het niet kunt accepteren, alles hebt geprobeerd om het aan te pakken, maar er verandert niks, dan is de enige weg naar geluk nog om afscheid te nemen. Dat kan misschien niet met elke 'X', maar met een hele hoop X-en wel. En dat kan ook zonder dat het eindigt in een vechtscheiding of moddergooien met advocaten. Zonder wrok afscheid nemen betekent dat je iemand recht in de ogen aan kunt kijken en kunt zeggen 'we hebben het geprobeerd, het heeft niet gewerkt, dat is ontzettend jammer, maar het is wat het is, en we nemen hier afscheid. van elkaar'. Dat is anders dan met twee middelvingers in de lucht de deur uitlopen.  
Klagen
Ik hoop dat je met de drie A's inzicht hebt gekregen in jouw keuzes tot geluk. Dat je daarmee een weg in kunt slaan waar je kracht en energie van krijgt, waar je persoonlijk leiderschap voelt. Doe je dat niet, hoe vervelend ook, dan rest je nog maar één andere keuze. Die leidt helaas niet tot geluk. Het is de keuze die we vaak kiezen, bijna onopgemerkt. Daar zit geen kracht en ook geen geluk, energie of persoonlijk leiderschap. Dat is de keuze van klagen, of zoals we bij Brout zeggen: 'ervoor kiezen om in je klacht zitten'.  
Daar gebeurt he-le-maal niks. 
Brout heeft het keuzekruispunt ontwikkeld in samenwerking met teamchange.
Hulp nodig met kiezen? Moeite met 'uit je klacht' komen? Niet overtuigd dat jouw 'X' op het keuzekruispunt past? Neem dan contact op. We helpen je graag verder.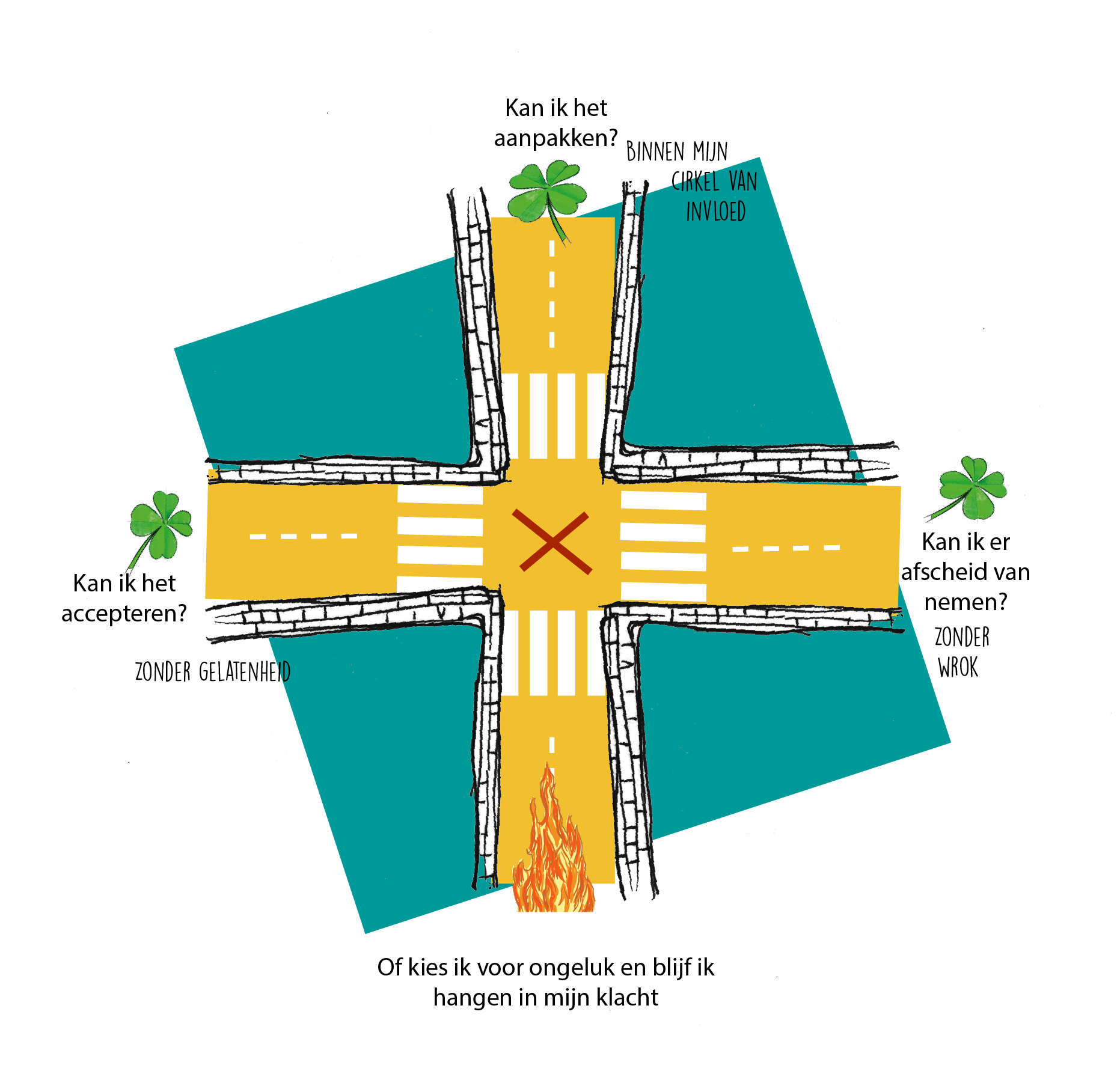 [/et_pb_text][/et_pb_column][/et_pb_row][/et_pb_section]